I went to see a link worker today, referred by my doctor 'cos I was such a wreck when I went to see him. To be fair to the link guy I took against him straight away as he greeted me so apologetically, but he didn't do himself any favours when he appeared unable to say any of the words linked to dead, died, death etc. I went off him further when he proceeded to advise me to think about Dad only once a day (I could sort of follow the logic behind this, if thinking about Dad made me unhappy - thinking about his loss upsets me, remembering him is a comfort.) He also told me that it was 'impossible to think/listen if one is speaking'. To 'prove' this he had me read from a text book whilst he spoke some nonsense at me. Literally nonsense - lines from nursery rhymes, football scores etc. When we'd finished he asked me to tell him what he'd said. I told him. He looked so crestfallen that I felt compelled to offer him fake consolation that I hadn't really remembered much of what I was reading if that helped at all...?!
Ah well, he gave me some telephone numbers to take away with me.
BUT! I've been making...
Look at my lovely bag..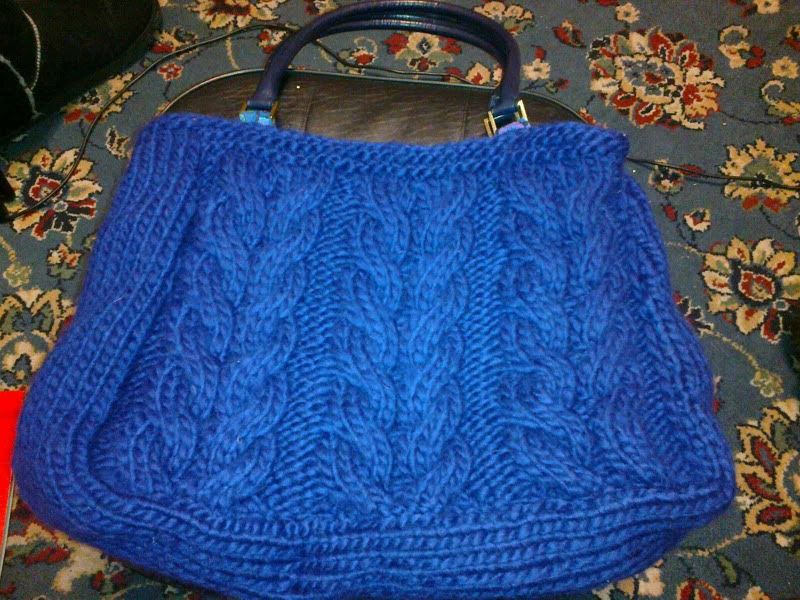 Cable ultra thick wool, lining sewn on my new sewing machine and handles, um, recycled from an unwanted gift.